Kids Culinary Camp
Welcome to our 2018 Kids Culinary Camp Page!
-2017 Best of Best Award Winner for Summer Camp by Charlotte Magazine  
Waiting List available for all sessions! E-mail info@chefalyssaskitchen.com
Session 1: June 18 – 22  (Age 7 – 12) 9 am – 1 pm  (*SOLD OUT)
Session 2: June 25 – 29 (Age 7 – 12) 9 am – 1 pm (*SOLD OUT)
Session 3: July 9 – 13 (Age 12 – 18) 9 am – 1 pm (*SOLD OUT)
Session 4: July 16 – 20 (Age 7 – 12) 9 am – 1 pm (*SOLD OUT)
Session 5: July 23 – 27  (Age 12 – 18) 9 am – 1 pm (*SOLD OUT)
Session 6: July 30 – August 3  (Age 7 – 12) 9 am – 1 pm (*SOLD OUT)
Session 7: August 6 – 10  (Age 7 – 18)* 9 am – 1 pm (*SOLD OUT) – Campers split amongst age when all sign-ups are received –
*Please note space is limited (16) in all sessions. Please e-mail info@chefalyssaskitchen.com for questions and/or wait-list opportunities
To watch a video from our 2017 Kids Culinary Camps please click here!
Welcome to our Kids Culinary Camps! Back for the 4th year, each camp runs Monday – Friday from 9 am – 1 pm within our cooking space inside of Atherton Mill in South End. We highlight all of our cooking classes by using local and organic ingredients. Our Kids Culinary Camps are meant to be more then your 'cookie-cutter' and "kitchy" cooking school. Chef Alyssa's Kitchen wants to teach the young chefs fantastic dishes! We were named Best Culinary Camp in Charlotte for 2017 by Charlotte Magazine.  We do kindly request that your child has some experience cooking with a parent in the kitchen before signing up.
On Friday afternoon – parents are invited to observe the end of class and enjoy lunch with their young chef.
Registering siblings? Let us know and receive a $25 discount off the total. Each child will receive an apron and recipe book to take home. And please let us know about any allergies as soon as possible.
Do you have a child who is on the age cusp one of the sessions? Call us and we'll determine together the best place for them!
Pricing for each session is $400, which includes everything (including a daily snack). It's best to sign-up early as our camps will sell out in advance. Please click here for registration!
Each day of the class will focus on a specific theme: Caribbean, Latin, Baking & Pastry, Southern and Mediterranean
This will include: 
Caribbean Day: Grilled Pineapple and Chicken Kebabs; Coconut Rice; Mango and Cucumber Spring Rolls; Homemade Watermelon & Lime Soda
Focused Skills: knife skills and kitchen safety, grilling, proper cooking temperatures and sanitation for chicken, cooking rice, balancing sweet and savory flavors. Gluten-Free Menu
Latin Day: Tamales with Spiced Local Grass-Fed Beef; Salsa Roja; Tomatillo-Avocado Salsa; Mexican Street Corn; Cinnamon Churros
Focused Skills: sautéing, making and steaming tamales, roasting vegetables, seasoning with dry spices, making choux pastry for churros. Gluten-Free Menu (except Churros)
Baking & Pastry Day: Strawberry Vanilla Mini Cakes with Strawberry Glaze; Ice Cream Cookie Sandwiches; Chocolate Mousse; Vegetable Quiche
Focused Skills: measuring by weight and volume, folding, whipping egg whites for meringue, ice cream making, how to work with butter in baking, how to make a gluten-free cake, traditional pie crust. All items are gluten-free except for cookies and quiche.
Southern Day: Shrimp and Grits; Pecan Crusted Chicken; Best of the Summer Tomato Pie; Cast Iron Peach Cobbler with whipped cream
Focused Skills: making grits, how to cook shrimp, learning about seasonal foods from NC, cooking with cast iron and care of a cast iron pan, cutting ripe peaches, making whipped cream, making yeast dough and quick fermentation for pita bread to grill the next day. Gluten-Free Menu (except Tomato Pie)
Mediterranean Day: Hummus; Pita/Flatbread; Chicken Shawarma; Greek Salad; Raspberry Sorbet
Focused Skills: how to make hummus, tzatziki sauce, rolling and grilling pita bread, Mediterranean seasonings, pickling, making sorbet. Gluten-Free Menu (except Pita Bread)
*Additional Allergy Information: We are happy to accommodate your child if they have a gluten intolerance. Please let us know the severity when signing up. 
Gluten
Caribbean Day is completely gluten-free. The rest are gluten-free with exceptions (if notified when signing up we will find an accommodation)
Latin Day (except churros)
Baking & Pastry (except cookies and quiche)
Southern (except tomato pie)
Mediterranean Day (except pita bread)
Nuts
All menus are nut-free except:
Baking & Pastry (almonds in strawberry cake)
Southern (pecans in crusted chicken)
Mediterranean (walnuts in Greek salad)
Please click here for registration!
Additional FAQ
Q: Will my camper's allergies be accommodated?
A: Please let us know ASAP of the allergies. We'll most likely be able to accommodate or provide a substitution for all allergies. Just let us know along with the allergy severity! Best to ask specific allergy questions ahead of time.
Q: Will my camper receive lunch?
A: Yes! They'll be making their lunch during the day and will have plenty more to take home and share.
Q: Anything else my camper will need to bring?
A: Please make sure you have arrived on-time (10 minutes early) and your camper has had breakfast. We'll have a snack during the mid-morning. Camper should bring a water bottle with them. Closed toed shoes please!
Q: What is the capacity for the camp?
A: 16 total.
Q: Why does my confirmation e-mail have a different start date on it?
A: To make it easier, we've listed all of our sessions on the same event link. Make sure you are signing up for the correct session and note the date. All confirmations will have June 18th as the start date. If you have any questions please e-mail us: info@chefalyssaskitchen.com
Q: I've heard your moving locations. Where will the camp be held?
A: Tough question! We are in the process of building out a new location in Lower South End (4001 Yancey Road). Our goal has always been for all of our 2018 camps to be there… but you never can tell with construction. We are currently in the middle of the process now and we'll have a better idea later in spring. For now, we're planning on hosting in our current location inside Atherton Mill (2000 South Blvd)
Testimonials from previous years:
"Rowan loved the trust the counselors gave her to prep and cook the food and learning about healthy and fresh cooking was a great bonus!"
– Mike M (parent)
"They LOVED camp and (without prompting) talked about how cool it was to do it all, start-to-finish. Not only did they enjoy a full day in the kitchen, but they loved the process of cooking and serving friends and family. Wow! I knew my children would enjoy cooking camp, but the recipes they came home with were fantastic! Easy recipes, yet solid kitchen skills will be part of our regular meal rotation.
They have made a few of the recipes already for us, but most importantly, their kitchen confidence and awareness has grown. You have absolutely helped our kids want something more than Lunchables (not that we've bought them, but they always "seemed" cool). The girls would much rather invent and make their own meals than buy a box. SUCCESS!!!!   "
– Meghan A (parent)
"I loved the camp so much! It was my favorite camp all summer because of the awesome chefs running the camp. I never used be in the kitchen but now I am cooking every night. I learned all of my knife skills and vocabulary for all of the cooking terms. I can't wait for my next class.
– Ryan S (camper)
"I was thoroughly impressed with the level of information and skills my child learned during Chef Alyssa's camp.  He was motivated to continue cooking in the kitchen with me the rest of the summer!"
-Lori S (parent; Ryan's Mom)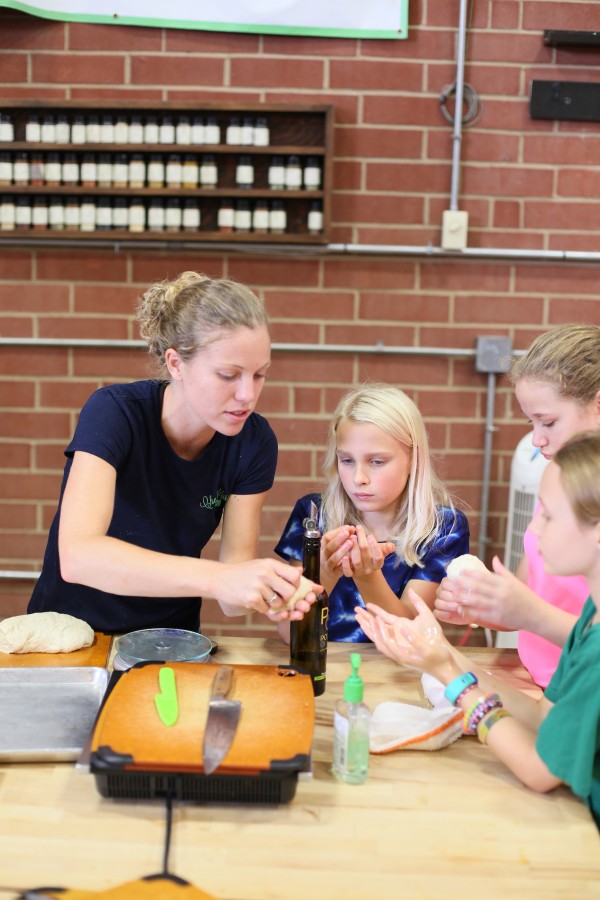 Event Information
Map and Directions
4001-C Yancey Rd
Suite #100
Charlotte, NC 28217
At Bowers Mill
The parking lot entrance is off Yancey Rd. Our building is located on the backside of the brewery (Brewers at Yancey), which is the opposite part of the building as their front door. There is additional street parking off Yancey and Southside Dr. There is a staircase entrance to Bowers parking from Southside Dr located behind Escape Tactic.
Information
Please e-mail us ASAP about any dietary and allergy restrictions. This information must be brought to our attention to ensure what substitutions can be made.