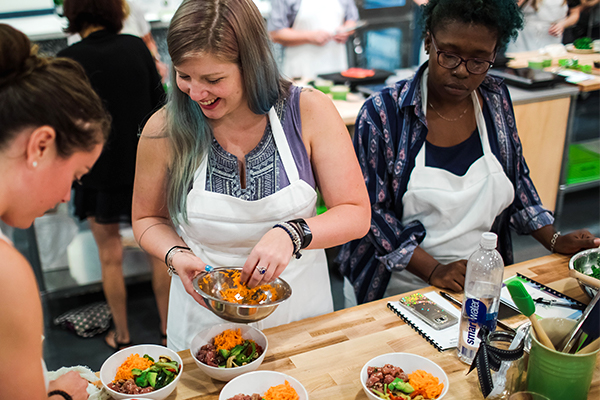 Private Events
Our cooking classes are perfect for a wide range of occasions, from corporate events to milestone celebrations to a fun night out with friends.
We offer four class formats for private events: Hands-On Class, Chopped Challenges, Tapas Tastings and a Bake Off Challenge. All are interactive and tons of fun. Events can be held during the day, afternoon or early evening.
Looking for a location to host a meeting before your cooking class? We have plenty of room for your set up.
All private events are held Monday – Friday, for ages 21+ only, and can be hosted during the day, afternoon or early evening. 6:30 pm is the latest start time. We unfortunately do not offer private events or birthday party cooking classes for kids/teens.
Cooking Class
The format of this class is what we built our business around! A fun experience while cooking a delicious meal. If you are a group looking to bond over food, build team camaraderie and learn fantastic cooking skills – this is a great event for your group, even if you don't cook much at home!
Organizers can choose from one of our six curated, seasonal menus. Led by one of our talented chef instructors, the flow is just like our public classes. While it does require attentiveness during demos, there is plenty of time to interact with your entire group throughout the event! The minimum for these classes is 12 guests and we can accommodate up to 24.
Chopped Challenges
In this event, teams of 4, 5 or 6 guests work together to make their best dishes from a mystery basket of ingredients. Guests will have access to our pantry, spice rack and equipment. Dishes are judged based on taste, creative use of ingredients and presentation. (Don't worry, we'll also make a meal for you to enjoy between rounds; dessert after round 2)! If you have a group looking for competition, maybe you are in sales or longtime friends, this is a great choice for your group. This event can hold groups sized from 11–42 people in our main room, but can hold up to 60 with use of both culinary rooms.
Tapas Tastings
In this class, guests move between stations making three small plated dishes. Combined they make a full meal, plus enjoy a prepared dessert. Each station is run by one of our chefs. The event overall is more casual, social and free flowing. This is great for high interaction amongst all participants and for larger groups, networking events and mingling. A great choice for a memorable rehearsal dinner or bridal shower too! Ideal for 30-70 guests.
Bake-Off Challenge
This is our version of the Great British Bake-Off Technical Challenge! We provide recipes, equipment and all of the tools for each team to make the item with 1 hour to complete the task! At the conclusion of the event, we'll also provide the same pre-made items for everyone to enjoy! This event runs shorter than others and is perfect for the mid-afternoon or paired with . lunch or dinner from our catering menu. This event is ideal for groups 20-36.
Virtual Cooking Class
During the pandemic, we've added a new online event. This event is a demo style, hour long cooking class led by Chef Alyssa. Choose one from a selection of menus with a flat rate fee for the group. Menus are designed around minimal ingredients that offer easy substitutions for allergens. Available only between 10 am and 4 pm Monday – Friday.
Planning an event?
Contact us!
Events can be held with less than the minimum number of guests, provided that the minimum payment is made. To get pricing details and other information, fill out our form. Include possible event date(s), if known. A team member will contact you to get started on planning.