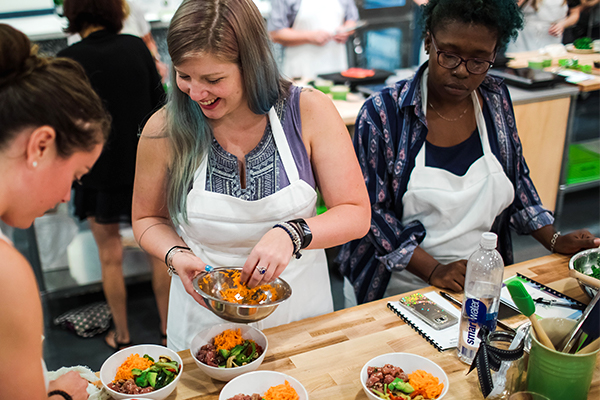 Private Events
Our cooking classes are perfect for a wide range of occasions, from corporate events to milestone celebrations to a fun night out with friends.
We offer three class formats for private events: Hands-On Class, Chopped Challenges, and Tapas Tastings. All are interactive and tons of fun. Events can be held during the day, afternoon or early evening. New for 2020: Virtual Cooking Class events. In-Person private events for 8 with included drink package.
Looking for a space rental that isn't cooking class related? Let us know too!
Until further notice, all events will have a facemask requirement as dictated by law during the cooking class portion of the event. For a detailed list of our COVID-19 related procedures, please click here.
Hands-On Class
Organizers can choose from one of our six curated, seasonal menus. These classes are led by one of our talented chef instructors and flow just like our normal classes. The minimum for these classes is 12 guests, and we can accommodate up to 24. For Fall 2020, a new option for 8 guests with included drink package.
Chopped Challenges
This is the ultimate team-building experience. In this event, teams of 4, 5 or 6 guests work together to make the best dishes from a mystery basket of ingredients. We judge dishes based on taste, creative use of ingredients, and presentation. (Don't worry, we'll also make a meal for you to enjoy between rounds)! Ideal for groups of 25–42 people, but can hold up to 60.
Tapas Tastings
In this class, guests go from station to station making small plate dishes. Each station is manned by one of our chefs; combined, they make a full meal. The event overall is more casual, social, and free flowing. Ideal for 35–70 people.
Virtual Cooking Class
During the pandemic, we've added a new online event. This event is a demo style, hour long cooking class led by our chef instructor. Choose one from a selection of menus with a flat rate fee for the group. Menus are designed around minimal ingredients that offer easy substitutions for allergens.
Planning an event?
Contact us!
Events can be held with less than the minimum number of guests, provided that the minimum payment is made. To get pricing details and other information, fill out our form. Include possible event date(s), if known. A team member will contact you to get started on planning.